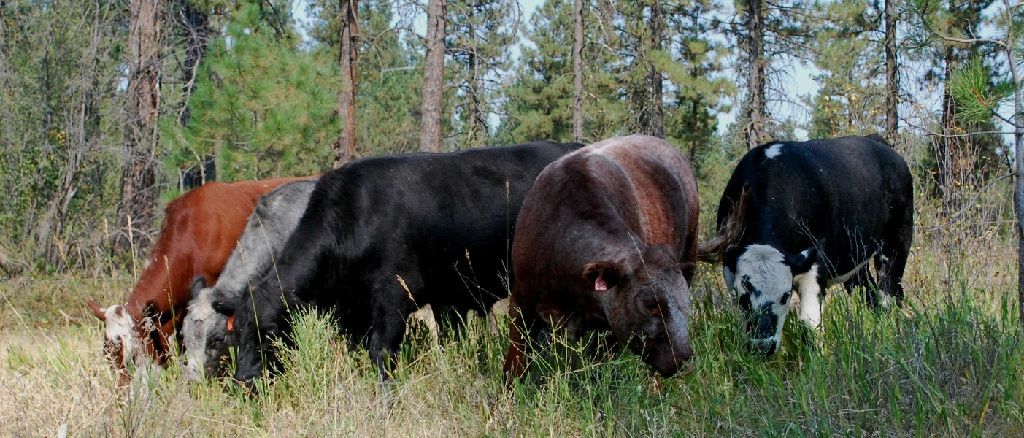 What we do:
We select and purchase steer calves for our customers from trusted area breeders and then carefully raise the steers to butchering time. We know very well the sustainable, healthy practices of our breeders. Each calf we select is of superior confirmation and disposition. In spring, summer and fall our steers enjoy rotation through lush pastures. During winter, their high life continues with a diet of premium hay; not the lower quality "feeder" forage so commonly used. Rather our steers are fed the same hay we feed our superior bloodstock and performance horses. For the final 75 days, we add a modest amount of non-GMO ground barley to insure good marbling and flavor. No, we do NOT feed our steers any corn. The result is a lean but very tender and flavorful product, from steaks and roasts to burger and stew meat, cut and double wrapped to each customer's specifications. Available in wholes, halves and quarters.
We provide care for our animals and land in every best practice of stewardship and sustainability possible. Furthermore, they are butchered here at our farm. There is no trauma of shipping and sudden new surroundings.
What we don't do:
We do not use any hormones or antibiotics. We do not broadcast spray herbicides or pesticides on the pastures; we fight invasive and noxious weeds with biological controls and hard work. When we do use herbicides, they are spotted onto individual plants and that particular pasture is not grazed until a safe period is long past.
The result:
A custom-crafted, highest quality meat that you will not only savor, but also know came from natural, caring and sustainable animal husbandry methods and practices.
You entrust the raising of your beef to us We take that trust most seriously.
To purchase as quarter, half or whole steers please contact us at:
Hidden Meadows Ranch, LLC
Craig Volosing and Karen Stevenson
509-747-5273